Come support the Sophomore class on Tuesday night 🙂🍕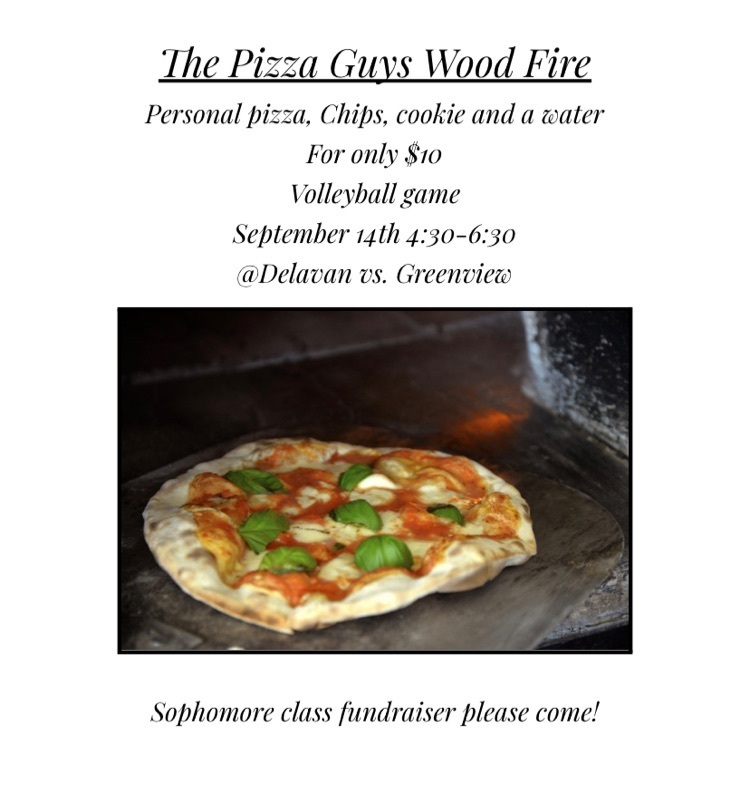 Don't feel like cooking tonight? You're in luck! The Junior class is hosting a drive-by meal tonight from 4:30-6:30 Under the portico of the high school! Menu: Walking taco, cookie, and water Price: $7.00 Proceeds to the DHS Carnival for helping all classes :)

Don't feel like cooking tonight?? You're in luck! The Senior Class is hosting their Carnival Drive-by Meal Outside the school Time: 4:30-6:30 For $8.00 you get: Spaghetti & sauce Bread Salad Dessert Bottle of Water All proceeds go to the DHS Annual Carnival! Thank you to Common Ground for preparing their meal!

Some solid reporting from Senior dad, Daric Rademaker. DHS was fortunate to renew a 1 year CO-OP with Oly this year so the senior boys could finish out. Next year Oly is going a new conference that won't allow the CO-OP.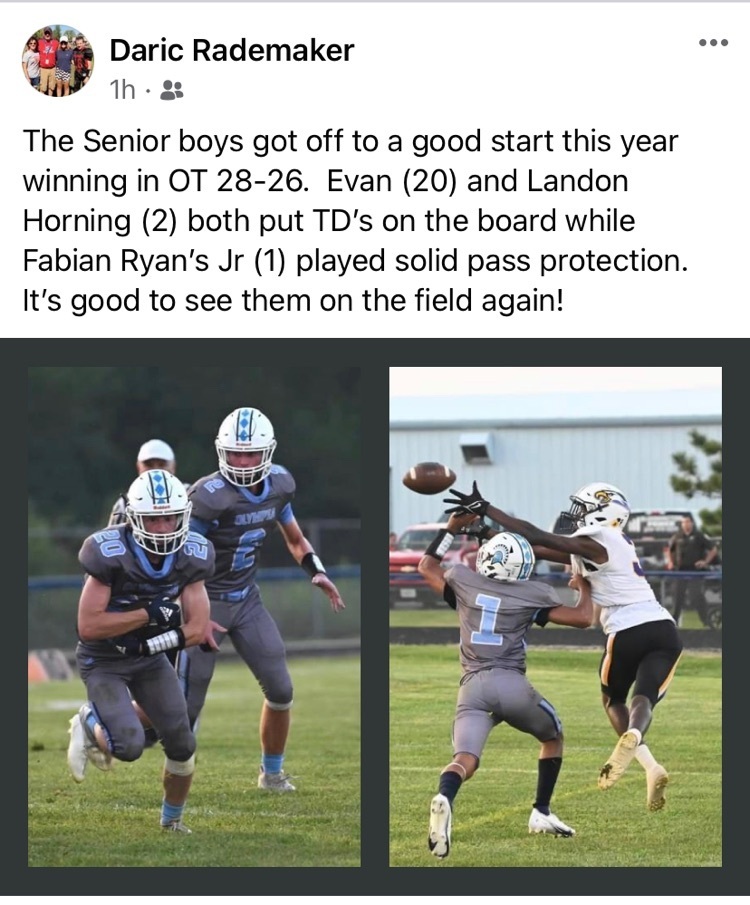 Senior Carnival Dinner----Tuesday, August 31st from 4:30-6:30. Please see the flyer for details. Come celebrate Carnival and help this Senior Class out :)

Here is a great opportunity to attend an event that State Farm is sponsoring on Saturday, October 2nd (event has been organized by Margo Hodges and coworkers...great local connection to Delavan). They are sponsoring "Tech Astra" to help 4th – 8th grade girls get excited about STEM career opportunities. This daylong event will have various labs that the girls will perform, they will be able to network with girls their age from all across the country and we will also have some special guests that will help them see what types of careers are available. The day will be virtual, therefore, all the girls need is access to Internet and a computer/iPad. Registration closes on September 18th and there is no charge.
www.techastra.statefarm

Please see the parent letter regarding the announcement from the Governor today.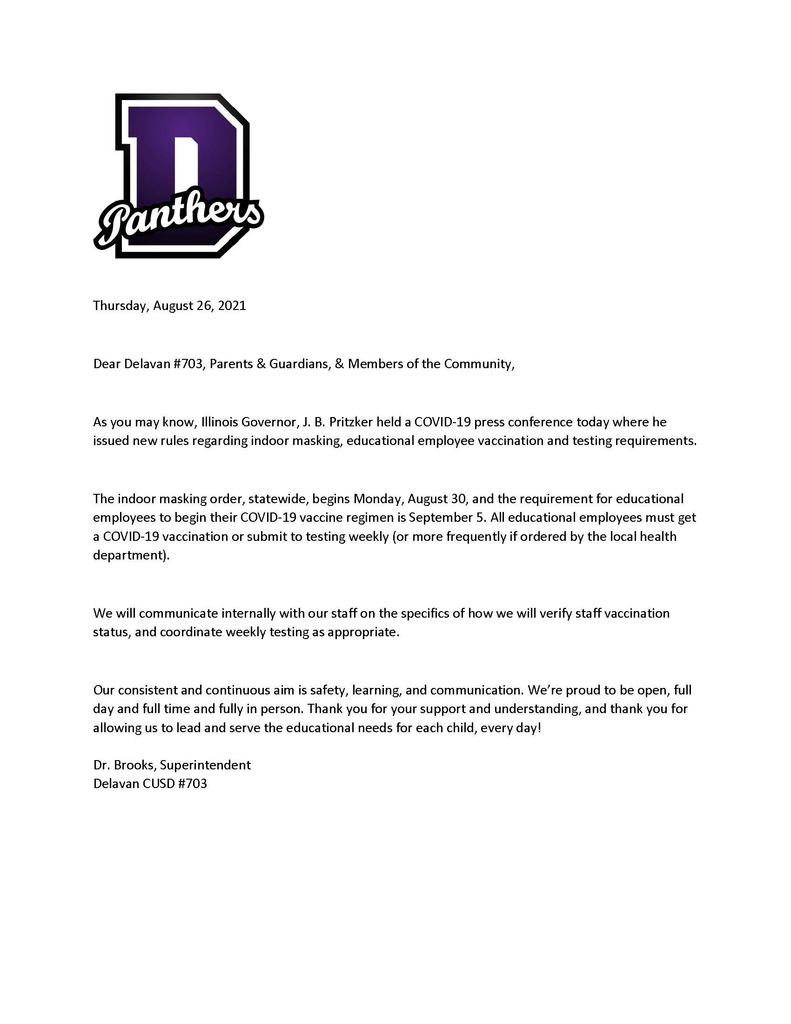 All outdoor activities are canceled for today due to excessive heat. Indoor practices will be done at 5pm I they are still being held.

Junior High Softball, Junior High Baseball, and Junior High Cross Country have all been canceled due to the heat index (107). No practice.

IT'S CARNIVAL TIME 2021!!!! Attached is opening information as well as information about the "Drive By Food" sales :)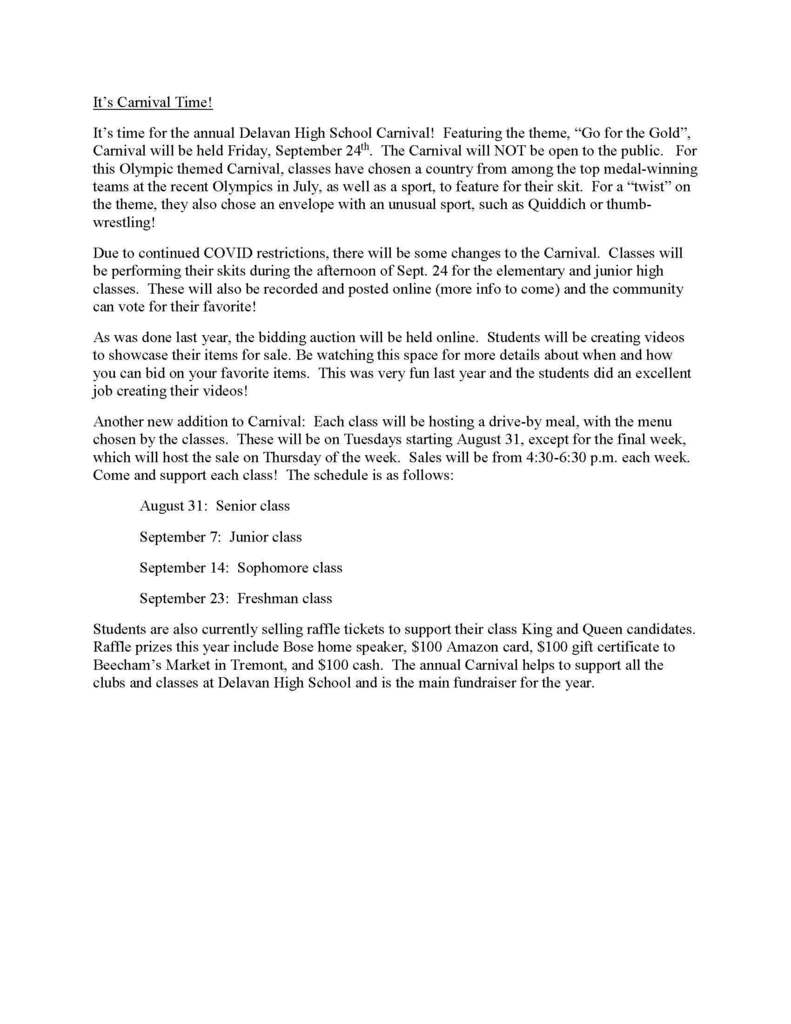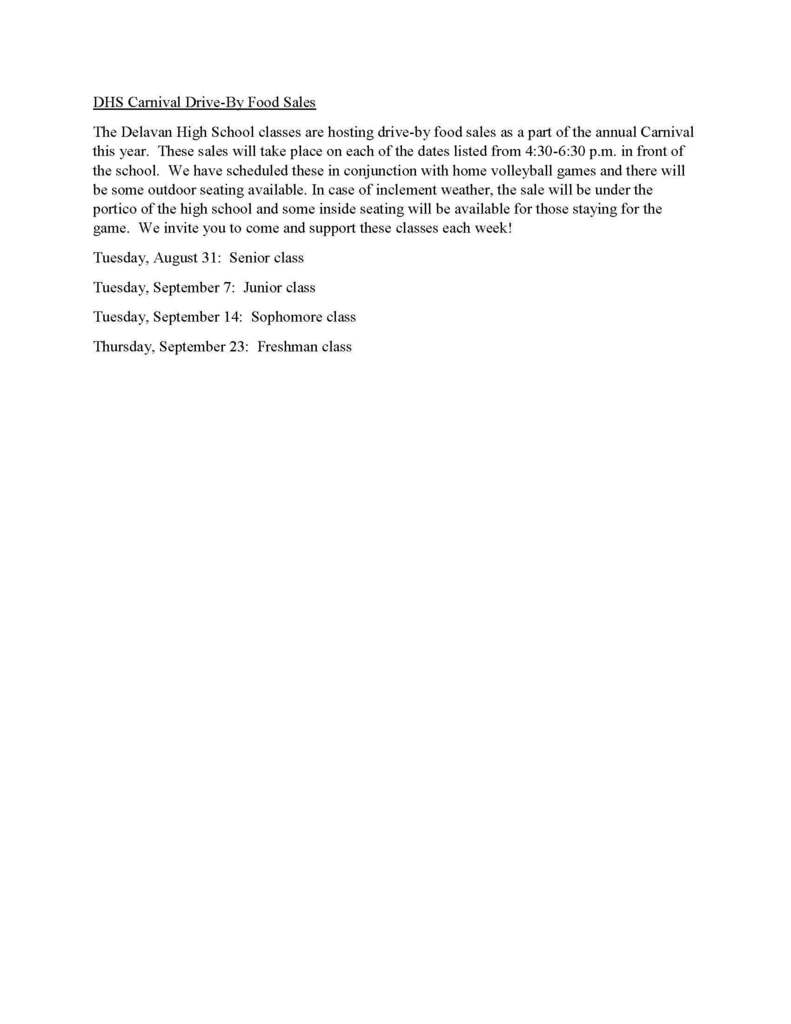 Carnival Kickoff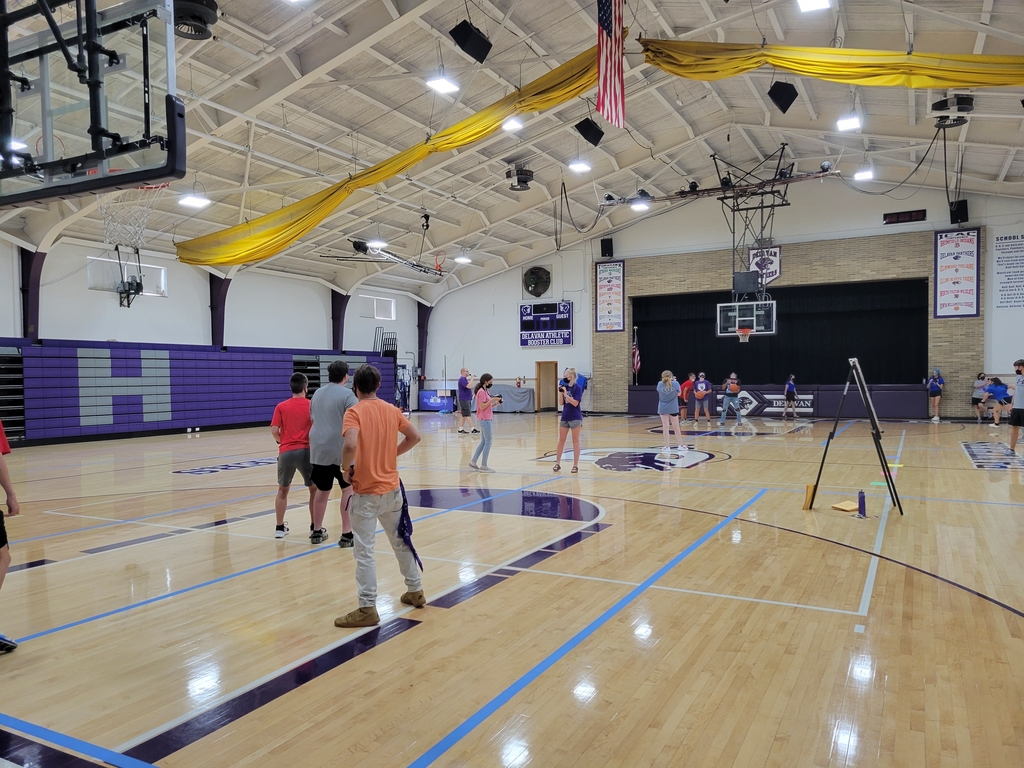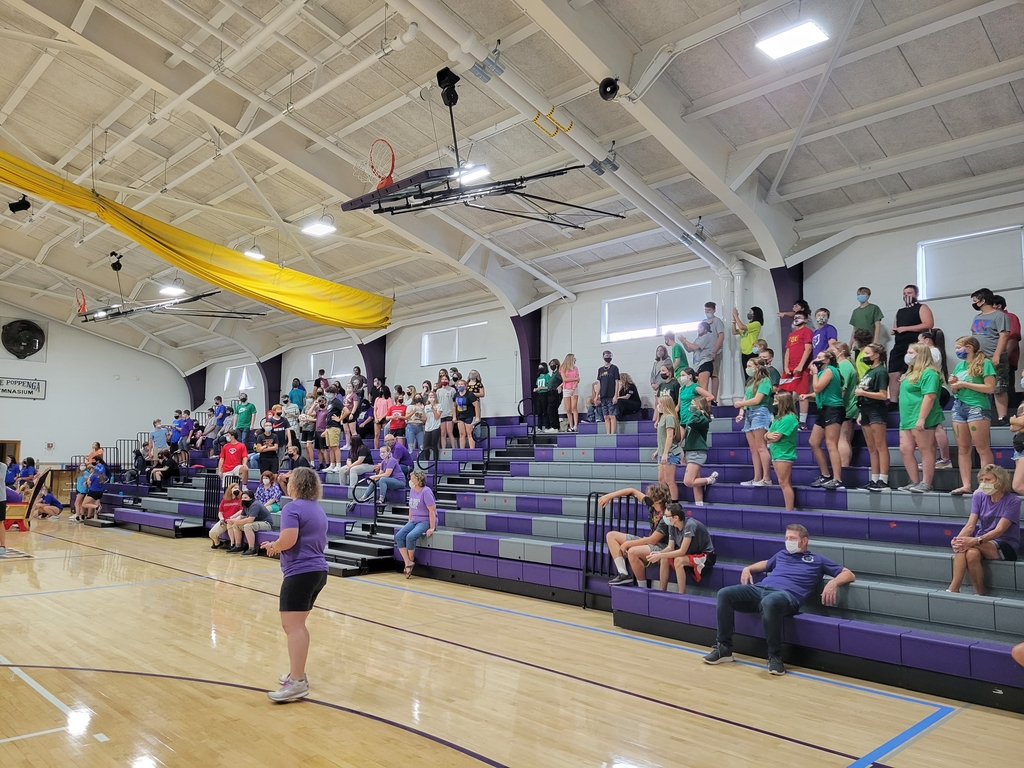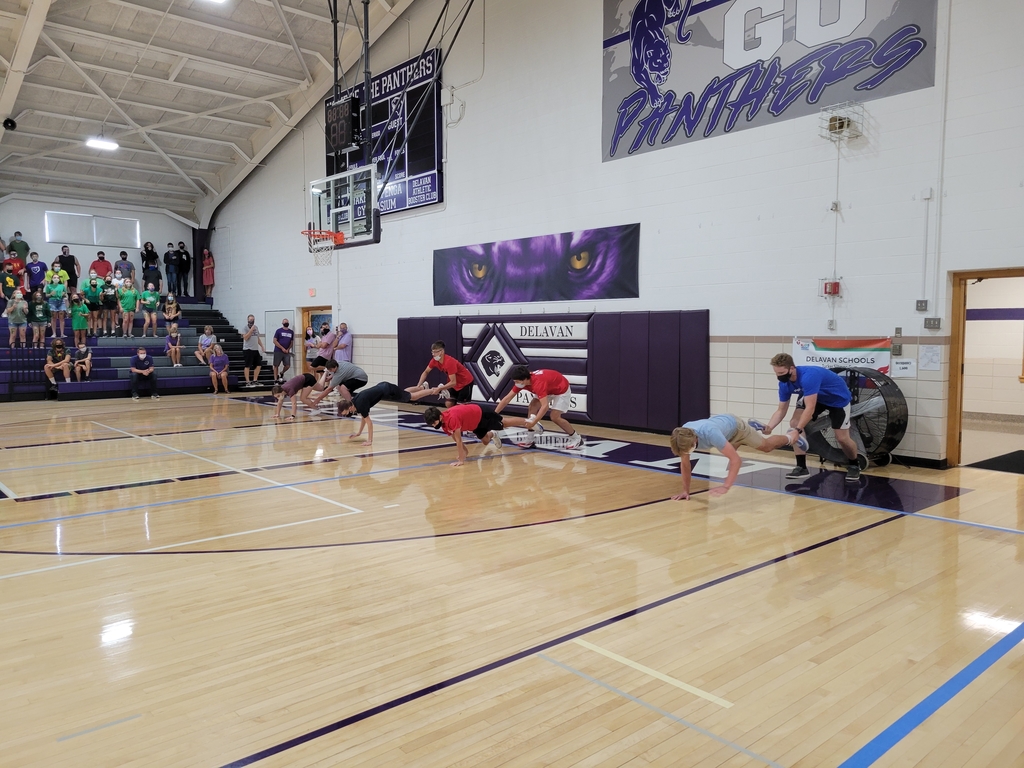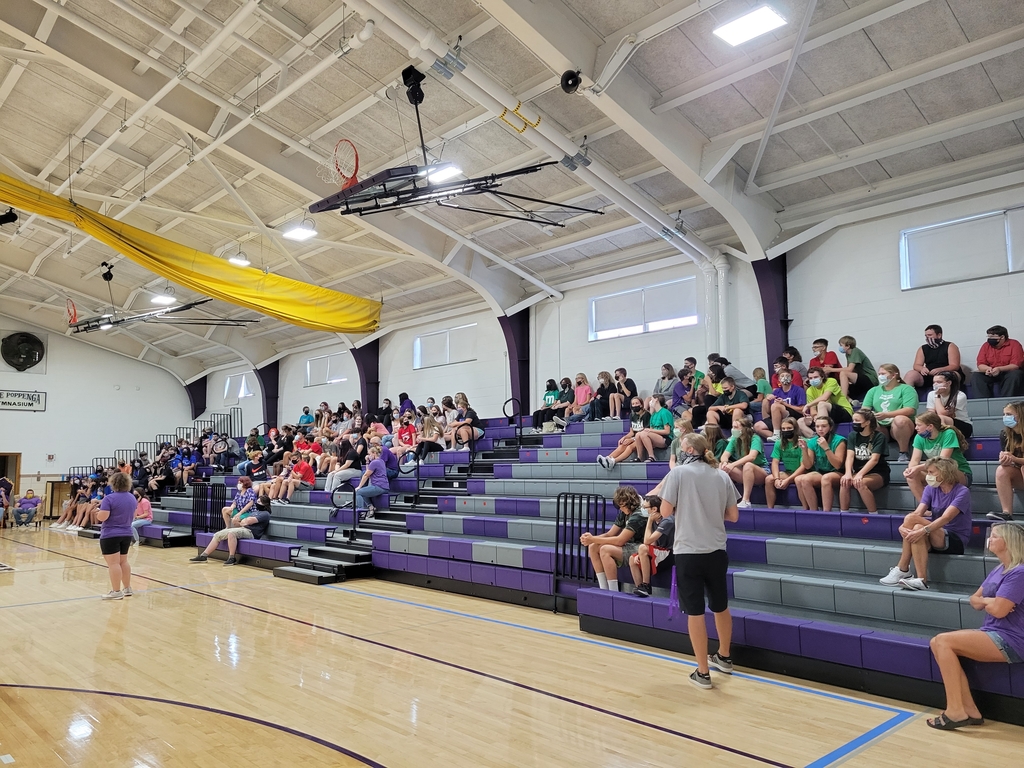 Kiddie Tractor Pull Flyer for September 6th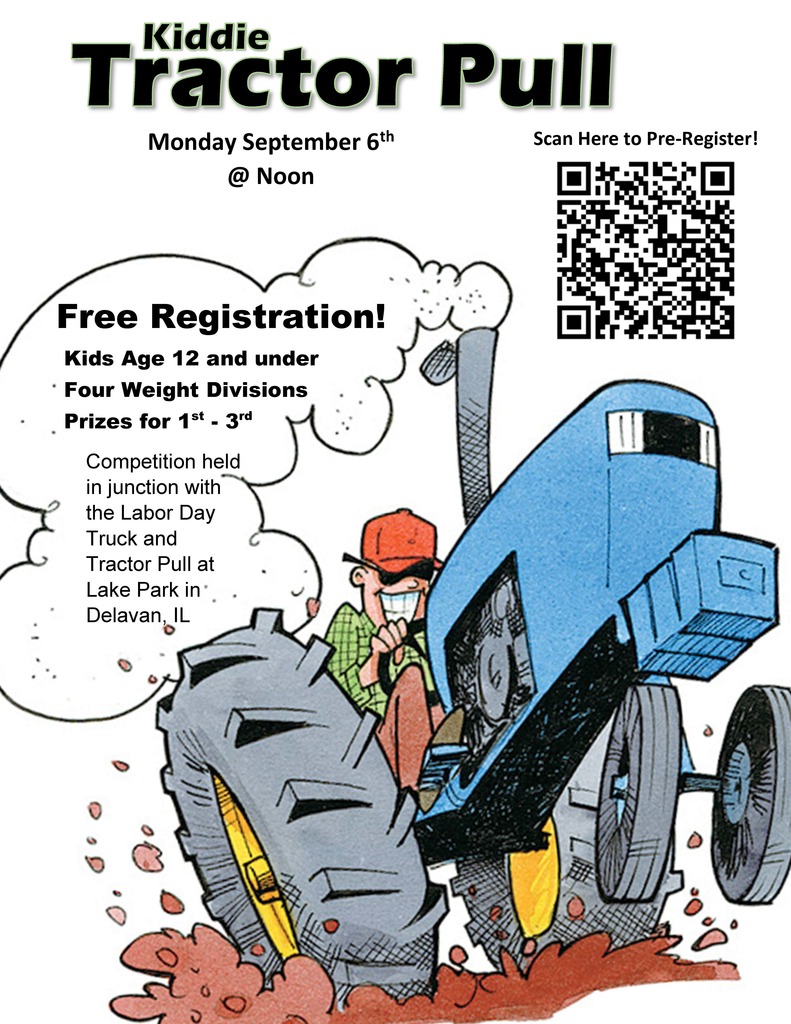 UPDATED for 2021-2022: Dear Panther Families, The USDA recently extended the waiver to schools which will allow us to continue providing ALL of our students with FREE BREAKFAST AND LUNCH, through June 30th, 2022, or until the federal funds are depleted, whichever comes first. This means all students in our school corporation will receive a free breakfast and/or lunch daily, for the entire 2021-2022 school year, regardless of income, need, or manner of attendance. You do not need to do anything further to receive this benefit. Students will not notice any real change in the process of obtaining meals. They will continue to be served in the same fashion they currently are. All first served meals will ring up as $0.00 for everyone. If a middle or high school student purchases a second meal or a la carte items, those things will be charged at the normal rates. Students who bring a meal from home, both elementary and junior high/high school, and wish to purchase milk will be charged as milk is considered a la carte, and is not covered by this waiver. Please keep in mind, the charging policy, which does not allow for the purchase of extra meals or a la carte unless a student has money on their account, will remain in effect. *If, after last year's free meal waiver, your child's lunch account still has a negative balance, please use this additional year of free meals to fund it to a positive balance. Please note, this program may cease with little or no advance notice. If funding is depleted prior to June 30, 2022, your student will revert back to whatever payment status they had prior to this waiver extension; Free, Reduced, or Paid. If you have any questions, give us a call!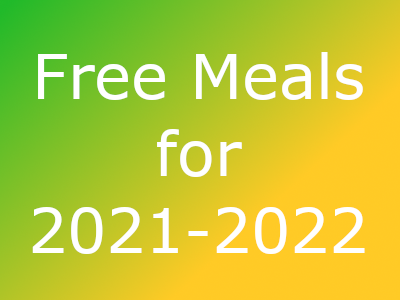 Annual reminder for Bus Safety.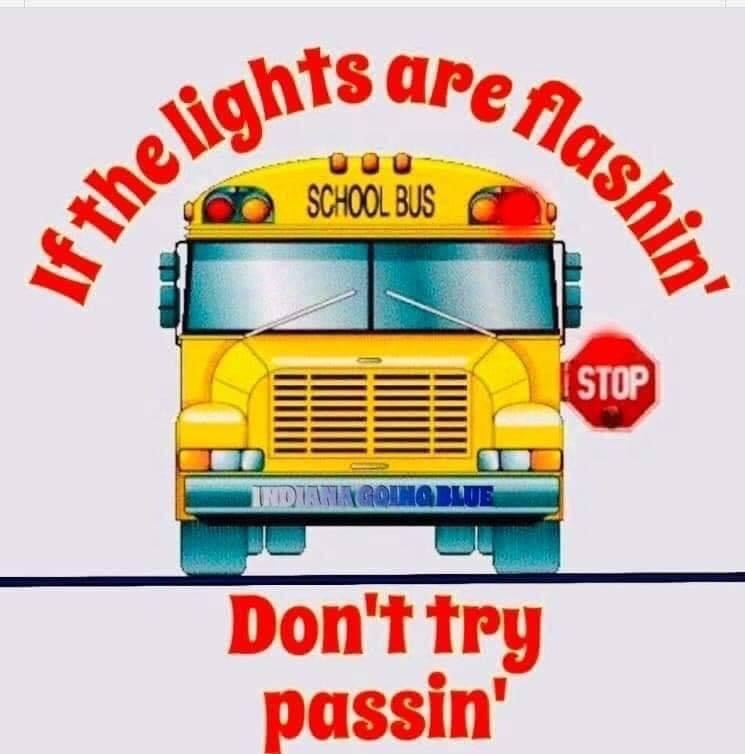 Due to the Governor's Executive Order on August 4th, Delavan Schools must now require face masks in our indoor facilities. This was not an easy decision for the Board of Education to make last evening, as we crafted a plan this summer that we still feel was appropriate for our school district given current local metrics. Unfortunately, with the ramifications for not implementing the mandate that have been suggested by the Governor and ISBE being the loss of recognition status, loss of funding, and state litigation we have no option but to comply at this time. Once this mask mandate is lifted, we will implement our original, locally developed plan approved on July 22nd. I have attached the updated Return to Learn Plan, a list of our representatives in government, and IDPH guidance on masks we must follow. Medically fragile students that are not capable of tolerating a mask due to a disability and/or medical condition should complete a medically fragile form (
https://5il.co/wwxw
) that their doctor can complete and fax to 309-244-7301.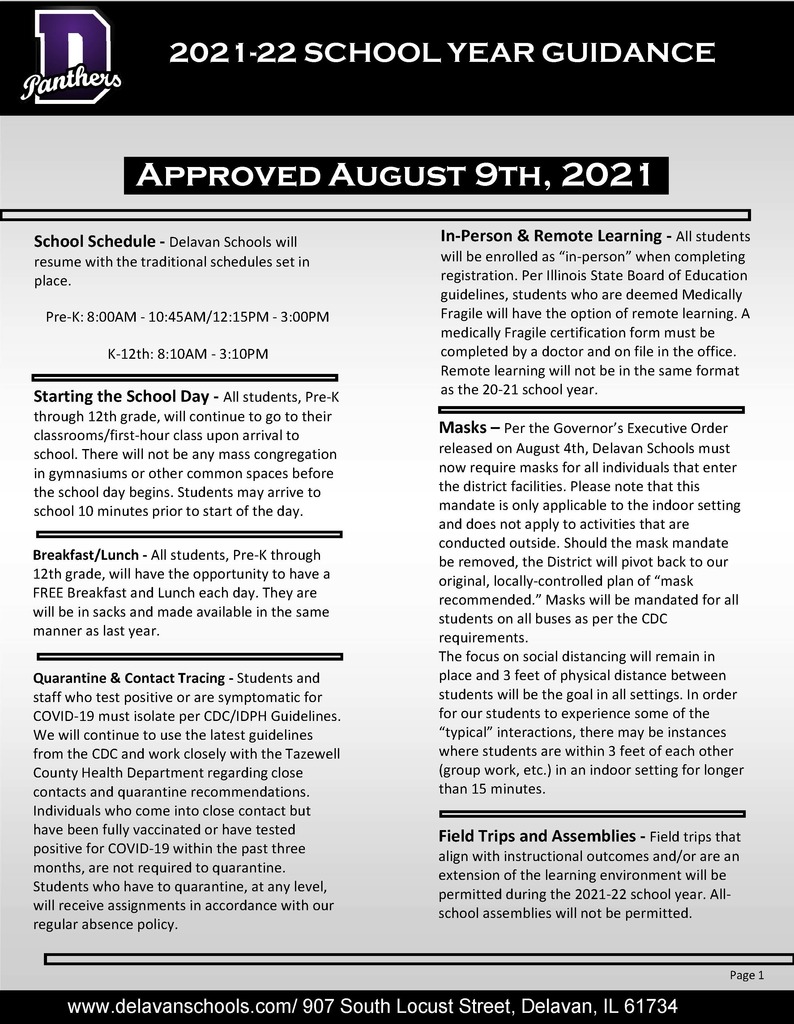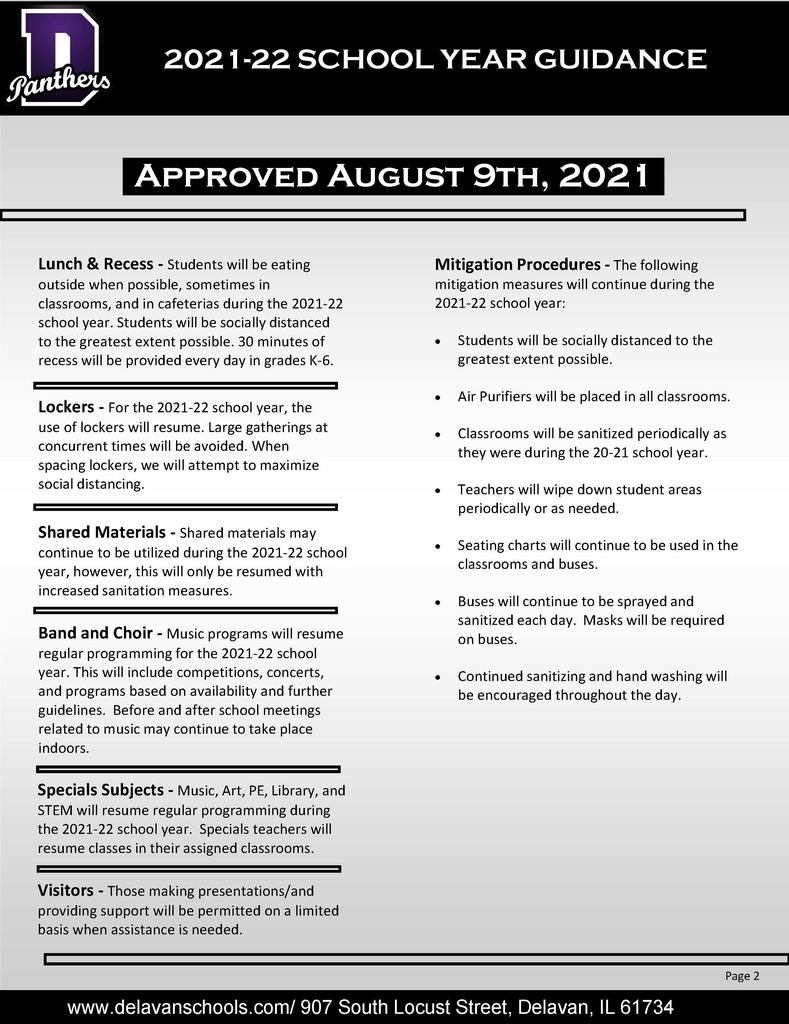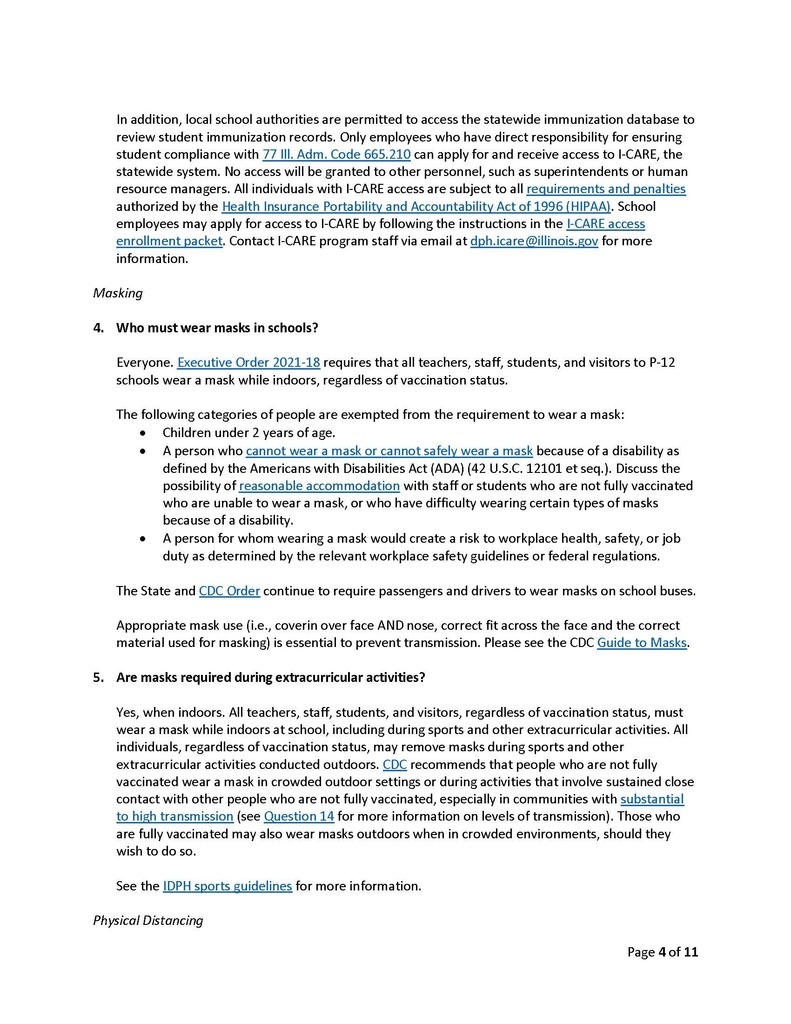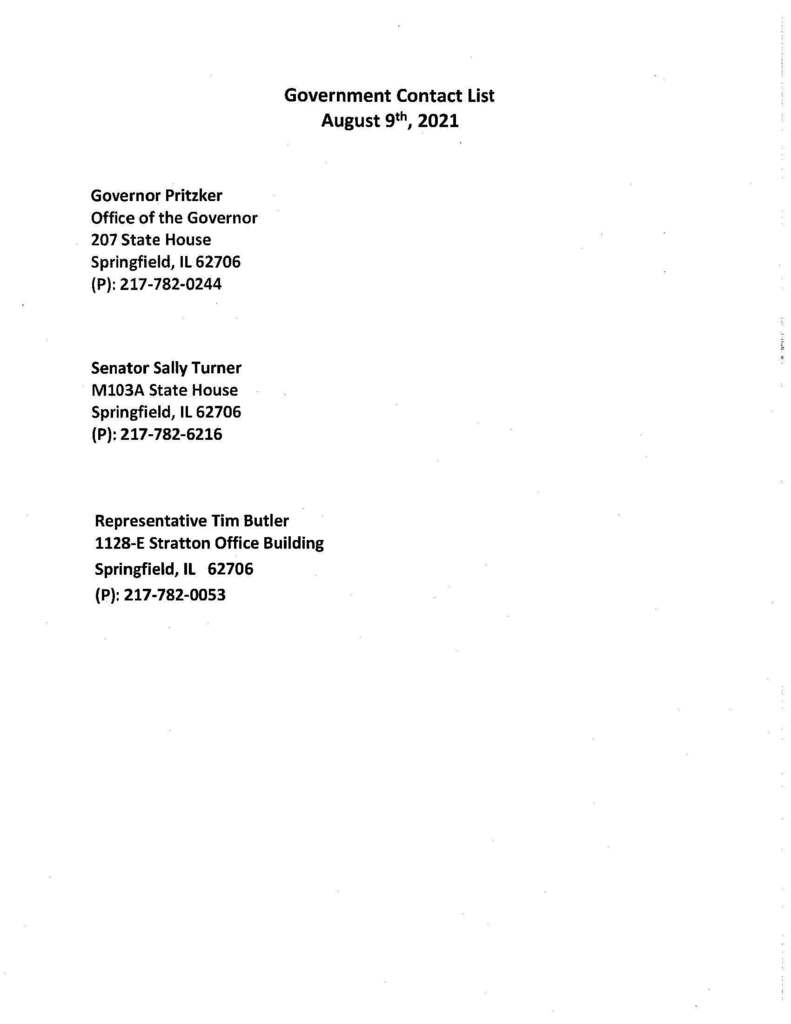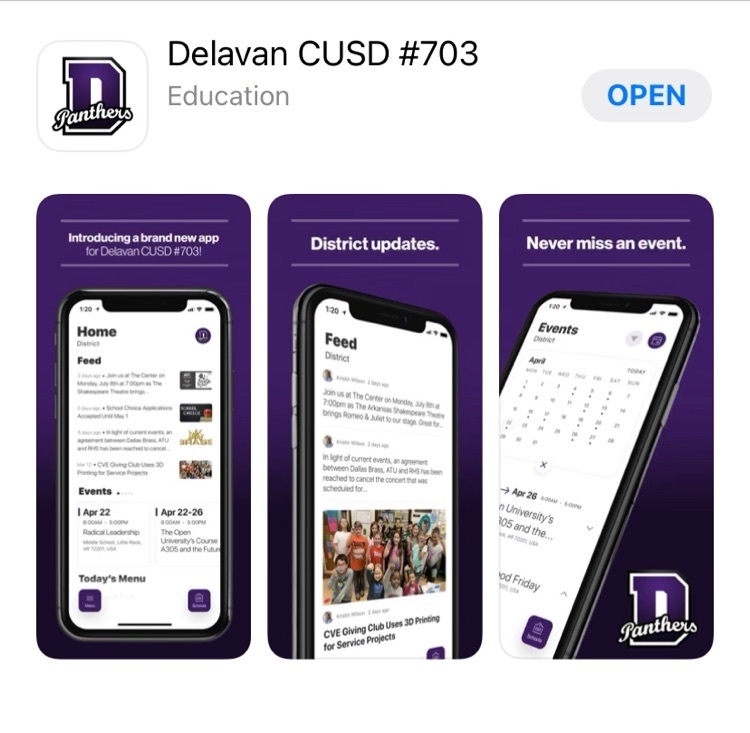 Upcoming vaccine clinic at Delavan High School.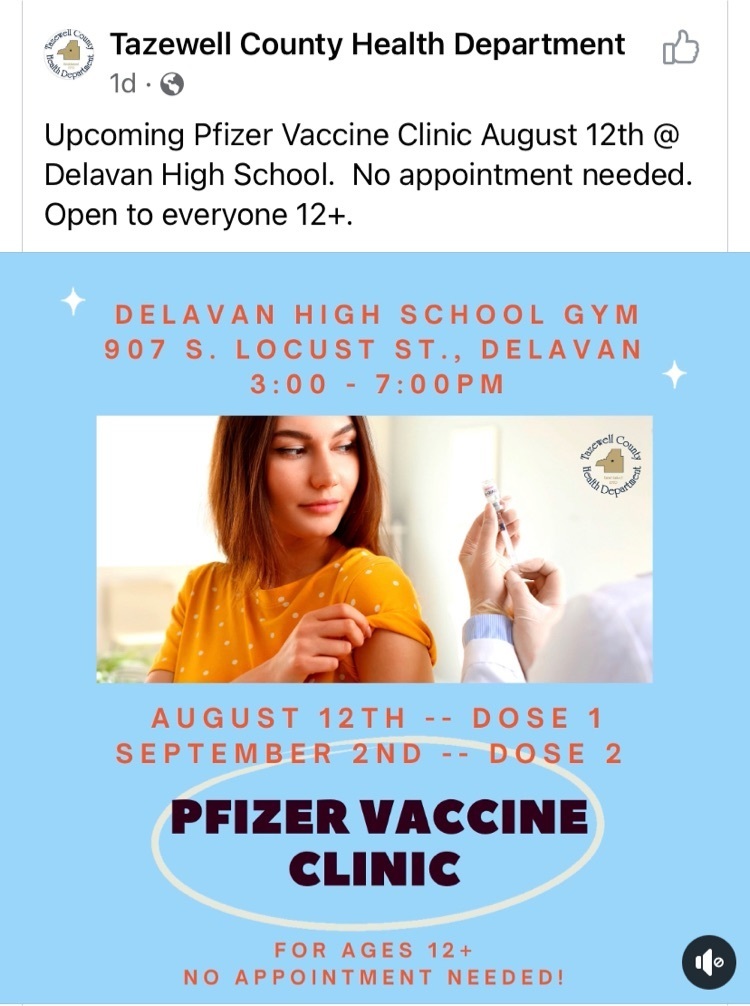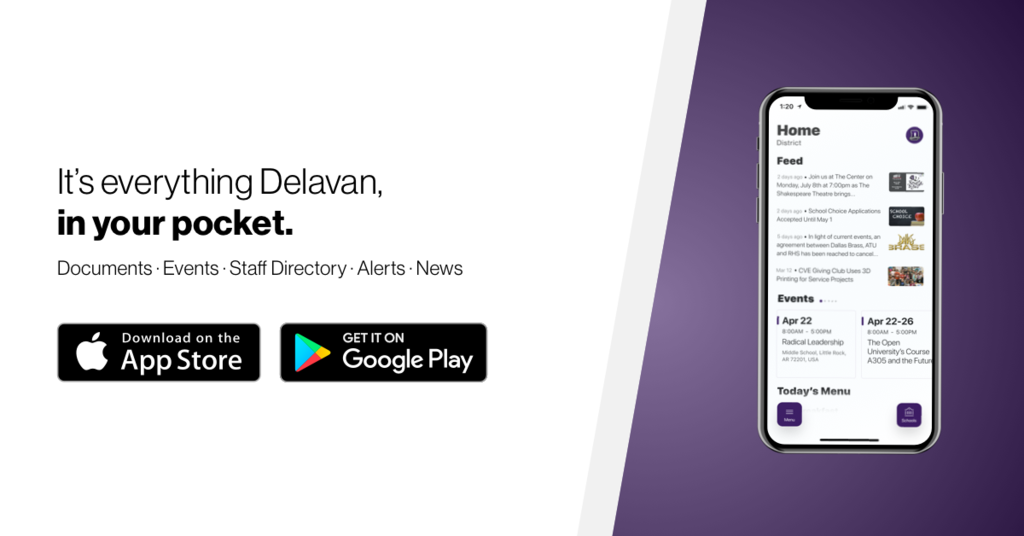 Today, Illinois Gov. JB Pritzker announced masks will be required for students, teachers and staff at pre-kindergarten-12th grade schools. The new measure is part of the state's ongoing effort to combat a new surge as the Delta variant rapidly spreads. The mask requirement is inclusive of youth sports and activities, with masks now required for all indoor extracurriculars and sports. In line with CDC guidance, masks are not required for activities outdoors. Today's announcement differs from the reopening plan for our school district for the 2021-2022 school year. At this time, the Administration will meet to review the new rules and will be communicating with you changes as soon as possible. Thank you for your support of our students, and I look forward to a new school year!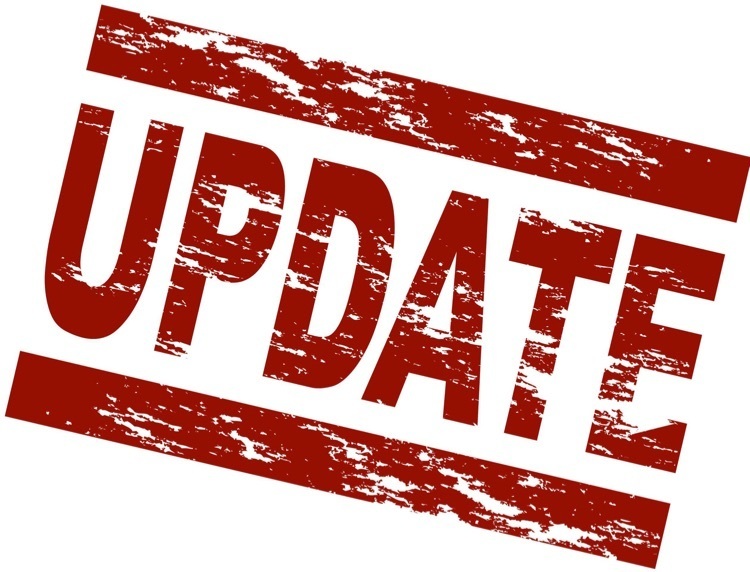 DAYCARE UPDATE With our Daycare Director hired, we are working toward our licensure for the Daycare. This process is not a quick, easy turnaround. Here are some of the details that should be known: 1. Once beginning the licensure process, there is a 90-day window to get everything complete if items are missing. a. This doesn't mean it takes 90 days, that is to provide time if there are issues. b. If there are issues and you don't get done in 90-days, you have to wait a full year to apply again. This is why we are getting everything in place to get quick approval. 2. We are currently trying to finish up a couple major items before starting the 90-day clock. Unfortunately, the issue is due to a lack of available companies to get work done this summer. This is what we are working on: a. Stair treads to the basement (just confirmed completed this morning). b. We need a concrete pad poured in the playground area for a hard surface for the children to ride and pull toys on- it is required. c. We need a shaded area installed over that concrete pad for protection from sun and weather- it is required. d. We need a fence installed around the playground area that meets DCFS requirements- it is required. e. Radon testing report (just waiting on results). We have a fence contractor lined up to do that work within the next week. We believe that we have finally secured a concrete contractor to perform that work within the next week. We will then have the shaded area installed and start the licensing time frame. I will update once the playground area has been completed and the clock has started. Please be aware that we are working as quickly as possible to get the process complete and to begin hiring additional staff and enrolling children. Thank you for your understanding as we work to provide this much-needed resource for our community 😊